Motorcyclists told to get vaccinated
Thursday October 14 2021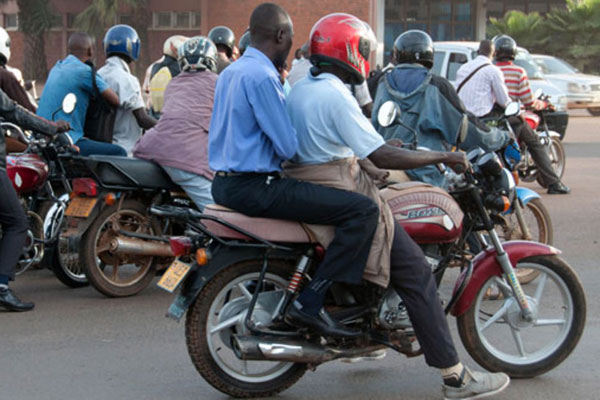 The Kwania Resident District Commissioner (RDC), Mr Richard Ogwang Odyero, has said boda boda operators, who have not received Covid-19 vaccines, will not be allowed to carry passengers.
He was speaking during the launch of mass Covid-19 vaccination exercise at the Mayor's Garden in Aduku Town Council on Tuesday.
"I have directed that any boda boda cyclist  who is not vaccinated and does not have a card will not be allowed to carry people because that is the source of infection. Most people are using boda bodaz and people are moving without a mask and that is not good," Mr Ogwang, who doubles as the chairperson of the district task force on Covid-19, said.
He said he would hold a meeting with boda boda operators in Aduku Town Council to sensitise them to embrace the ongoing Covid-19 vaccination.
 "So I am appealing to the business community and all the students from 18 years and above to come and get vaccinated," he said.
On Tuesday, more than 200 business persons in Aduku Town Council received their first dose of Covid-19 jab.
Mr Nixon Adi, the chairperson of Aduku Town Council business community, said: "I am requesting my fellow business men to turn up for this vaccination and also pass this message to your customers to come for vaccination since the service has now been brought closer." 
 Mr George William Omony, the principal of Uganda College of Commerce,  asked students to get vaccinated or they will not be allowed to attend school.  
In Kwania, at least 10, 300 people have so far received their first and second dose of Covid-19 jab.
 In Apac, the RDC, Mr Emma Ngabirano, said the Covid-19 situation is under control and people are observing the standard operating procedures. 
Mr Ngabirano said their target now is to mobilise hotel owners and their attendants to go for vaccination since they interact with many people on a daily basis. 
"We have also got concern from bus and taxi owners that they are always on the road. So, registration is underway for them, especially those above 18 years and those with chronic illnesses," Mr Ngabirano told Daily Monitor at his office on Tuesday. 
"We have received more vaccines totalling to 2,778 doses and we are getting more. These ones will be distributed to different service points, especially at the health facilities and I am very sure within a week time it will be done," he added.