Mogul vs Mogul: Australia's tech law pits Murdoch against Zuckerberg
Monday February 22 2021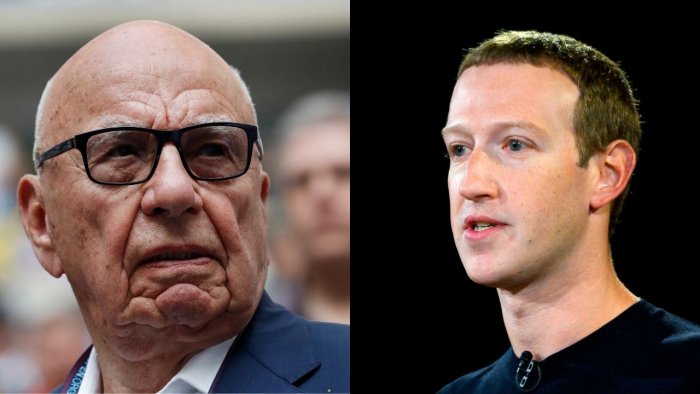 Australia's push to regulate tech giants has become a power struggle between two of the world's most powerful men, with Rupert Murdoch and Mark Zuckerberg locked in a generational battle for media dominance.
Efforts in Australia to make Google and Facebook pay for news has garnered worldwide attention, creating what some call a defining moment for the web and for journalism, and even a litmus test for democracy.
But beyond the high-sounding rhetoric lies a more base struggle, with the barons of traditional media fighting back against their digital heirs.
Sydney tech billionaire Mike Cannon-Brookes went as far as calling the Australian push to force payments for content a "shakedown".
The landmark legislation may carry the seal of government, but media and political insiders see the fingerprints of Rupert Murdoch's News Corp all over it.
"This has been a passionate cause for our company for well over a decade," said News Corp chief executive Robert Thomson, hailing his boss' "fervent, unstinting support" for the cause.
"For many years, we were accused of tilting at tech windmills, but what was a solitary campaign, a quixotic quest, has become a movement, and both journalism and society will be enhanced."
For decades, the Melbourne-born billionaire behind Fox News, The Sun and Sky News Australia has bestraddled politics in the United States, Britain and Down Under.
Today, he controls roughly two-thirds of daily newspaper circulation in Australia's major cities, with complete monopolies in Brisbane, Adelaide, Hobart and Darwin.
That has prompted critics to paint the 89-year-old in almost cartoonish terms as an all-powerful political puppetmaster.
While he still wields political power, the rise of Facebook and Google has seriously challenged Murdoch's preeminence -- gouging ad revenues that kept many of his publications in the black.