Lock them down, cash them down, shut them down, keep them down
Thursday July 01 2021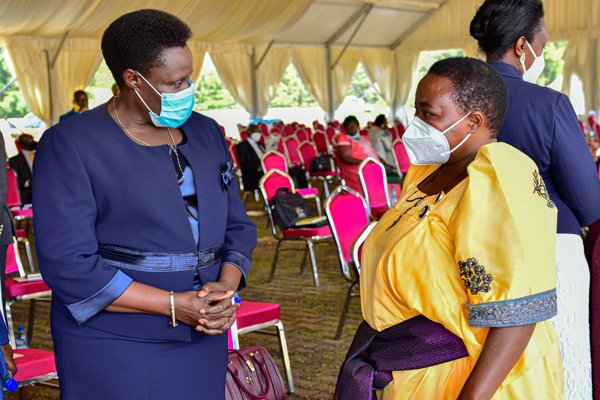 It is all going down, just keep reading down. There is more I could have put down but let's just get downed. Alert-Operation gets to the ground. From Obote to Alimadi to Muwanga to Waligo to Kisekka to Adyebo to Kintu to Musoke to Nsibambi to Amama to Rugunda to Nabbanja. That's our expedition from premiers to fishers. Anything fishy? The net? The bait? The gait or the trait?
Upon her appointment, the Rt. Hon. Nabbanja promised Ugandans that she would not merely be an armchair premier but rather an "on the ground" premier. She has hit the ground running with overseeing the second lockdown implementation and today, we assess her ground model of cash reliefs (Nabbanja's ka money) as a COVID-19 response strategy. You are locked down so that you can be cashed down. Beyond the ground, let's get into the ground.
Governments around the world are implementing a variety of measures to dull the blow of mass income loss and unemployment caused by the COVID-19 pandemic and recession. Cash transfers, whether targeted or universal, have been one of the most popular remedies used to date. In an emergency, cash transfers offer three important forms of relief: a rapid and cost-effective way to provide basic needs like food and shelter; a means to recover and rebuild after the crisis; and protection from future shocks. Cash transfers accomplish all of this while giving individuals the autonomy to manage their expenses and stimulate local economies. The money allows those who are losing their income to shelter in place, thus avoiding mass migrations like the one happening in India where millions of people, who are unable to maintain the cost of staying in cities after losing their jobs, are returning home to the countryside, potentially increasing the risk of the virus' transmission. Helping workers stay in place means that they will also be ready to restart the economy and resume work immediately after the crisis, avoiding a labor shortage in the future.
Currently, India has the largest cash transfer program. When India placed its population of 1.3 billion people under lockdown, the government launched a cash transfer program that put 500 Rupees (USD 7) in the accounts of 204 million women who were already enrolled in one of its existing financial inclusion programs. Kenya also has cash transfer programs for over a million people who receive Kshs 2,000 (USD 20) per month and has now added almost Kshs 100 million to cushion people from the economic effects of the pandemic. In Burkina Faso, a new USD 10 million cash transfer program for fruit and vegetable sellers has been announced, and Colombia revealed a one-off payment of USD 108 for informal workers. El Salvador pledged to give USD 300 to 1.5 million households in the informal economy. Egypt is targeting 1.5 million individuals working in areas such as construction, ports, agriculture, fishing, plumbing, and electricians. Madagascar is targeting 150,000 households with USD 27. Haiti announced a one-off cash transfer to about 1.5 million households, according to the World Bank.
An analysis of cash transfer evaluations highlights that for cash transfers to have a lasting effect, they must be embedded within wider interventions such as behavioral change and community empowerment programs. As such they cannot exist in sole reliance to only lockdowns as is Uganda's case. This analysis also reveals that programs which ran for longer periods were more likely to have enduring positive outcomes. Some of these interventions have been evaluated, and are included in Walk Free's Promising Practices Database, a searchable database of evaluations of modern slavery interventions.
Recipients' needs from this cash transfer will boil down to two big buckets: staying afloat for the near term by covering expenses for basic needs, and maintaining opportunities for productivity once the crisis is over. The latter might include storing supplies, preserving relationships with customers, funding transportation back to their places of work and looking for new sources of income. This allocation of resources between present and future needs is challenging even in normal times but is harder still under the current circumstances. Given the uncertainty over the coronavirus' staying power and availability of potential remedies, no one knows how long social assistance will be necessary, so recipients cannot be sure how much they should spend today versus put aside for later. And in most countries, the amounts proposed for emergency social assistance programs only cover a fraction of what people will lose in revenue during the crisis. That is why most countries have lifted lockdowns. To manage the through-the-roof expenditures posed by the COVID-19 social assistance programs. This should be a lesson for Uganda.
Moreover, the very novelty of the situation, where many recipients may be getting cash from the government for the first time, and in unfamiliar forms—direct deposits or phone credit, for example—further complicates people's ability to make this important but difficult tradeoff. Behavioral science shows that times of anxiety and hardship lead to "cognitive scarcity"—an erosion of mental capacity that dents one's ability to concentrate on tough decisions. All of this has important implications for how governments provide assistance. Their job does not end with the wiring of a cash transfer to the vulnerable; it extends to finding ways to help citizens put aside the background noise—the impulse to hoard ever more toilet paper and hand sanitizer, for instance—and focus on important economic decisions. But you see, lockdown is the fog on the glass of the bus driver, H.E. President Museveni.
The lockdown means that millions of workers are losing jobs and income necessary to cover their basic needs—including the housing that allows them to stay at home, to begin with—not to mention, the investments in their future to participate in the realization of Vision 2040. Those who toil in the informal sector across Uganda, workers on renewable contracts and people who work in this "gig economy" are particularly vulnerable. That is why the government ought to rethink who a vulnerable person is. Like the blanket adoption of lockdown measures, the government uses blanket standards to determine the vulnerable. This lockdown further threatens to exacerbate already dire conditions for low-income communities, as well as inhumanitarian settings.
KEY CHALLENGES OF THE CASH DOWN
The decision to design transfers for households or individuals has important gender implications. On the one hand, designing transfers for households may ensure better coverage for children and make for a swifter rollout, but once the cash lands in the household, it is unlikely to be used equitably amongst all members. For decades, household cash transfers or transfers meant to benefit children have been targeted to women because some evidence suggests that women are more likely to use the transfers to benefit children.
Given Uganda's past management of social programs, the scale and speed of this program will most likely intensify the corruption risks, in terms of fraud and embezzlement. This also extends to political abuse, particularism, and clientelism. In Uganda, cash transfers have been adopted primarily as a form of clientelism rather than as a strategy for promoting either significant levels of poverty reduction or an improved social contract. The corruption risks are identified at four stages of the process: when funds are allocated to and managed by recipient governments; when decisions are made on who will be the recipients; when funds are handled by the distributing agencies; and when the funds are given to the end-users.
Nabbanja's approach is overly broad and ambiguous. For a fiscally constrained nation, well-targeted transfers would lead to lower poverty rates. For many countries in the world, which have less than 50% of their population living below their poverty lines, it makes sense to invest in administrative systems that achieve high levels of accuracy in delivering safety nets to intended beneficiaries. However, in times of crisis, governments must weigh the administrative costs of improved targeting with the financial cost of providing near-universal coverage. Targeting takes time, and time is in short supply right now. For low-income countries with majority poor populations, simply relying on existing systems that target the destitute will not be enough, as many who are not vulnerable under normal circumstances will become vulnerable now. But these are not systems that we have or if we do, they are inefficient and lockdown just doesn't help the situation.
Further challenges are posed by the last-mile delivery of these services, given that this program has been created to reach new beneficiaries (those who haven't previously received social transfers).  We ought to pay attention to digital delivery solutions for underbanked beneficiaries and those without experience using digital channels such as mobile money. Key programmatic factors need to be considered, including best practices in establishing mobile accounts (such as beneficiaries' lack of or incomplete IDs/Biometrics, low mobile phone literacy, poor connectivity and failure rates of transfers), communication about the program (such as onboarding to a digital account, benefit amount, cash-out points, fess/other charges, and benefits of the digital account), as well as consumer protection issues (data security, real-time redress mechanisms and health or safety standards at cash-out points). Women, in particular, often face several of these challenges simultaneously and have additional time burdens, such as the added responsibility of childcare and increased household responsibilities coupled with decreased household bargaining power.
However, these are key issues that haven't been addressed in Nabbanja's cash down.
SOMETHING MORE SUSTAINABLE?
I propose that four guiding principles should guide our response as a nation. Any measures the Government takes must be timely, fiscally sustainable, targeted to those who need it, and proportionate to the level of the economic shock. And in these, count lockdowns out.
As opposed to lockdowns and cash-downs, the government should consider that businesses facing insolvency due to COVID-19 should be supported to remain viable and keep people in jobs, through temporary "safe harbor" changes, especially to the Companies Act. Other changes include being able to "hibernate" debts, allowing electronic signatures, and temporary extensions to filing deadlines and compliance requirements; small-medium-sized businesses affected by COVID-19 should benefit from greater flexibility in statutory tax deadlines.  Changes to the tax loss continuity rules, a tax loss carry-back scheme, and measures to support commercial tenants and landlords as well as further business consultancy support should be adopted. In order to keep workers connected to their jobs, a subsidy scheme should be established especially to provide sick leave for essential workers who are vulnerable(and these are not considered in Nabbanja's strategy), sick or otherwise unable to work, so they can isolate at home.
The "Nabbanja cash down" could be used to establish a special community resilience package to help community groups through the community development officers and LCs to bolster essential services, support disabled people and strengthen local resilience. Let the lockdowns be lifted and focus be on creating a conducive environment that will enable people return to productive economic activities.
Let's not just rush into simply cashing the vulnerable down. Beyond this, build systems. Systems that work for everyone. Cash transfer programs should have established, clear, transparent, and efficient targeted mechanisms; choosing reliable and context-specific cash distribution systems; ensuring transparency and participation of beneficiaries; putting robust monitoring and evaluation systems in place. Looking forward, ensuring social assistance infrastructure is already in place allows for the fast roll-out of programs at short notice while permitting flexibility in distributing funds can mean the most marginalized populations are reached. But all these mechanisms can best be realized without inhumane tendencies of locking us down with the hope that when you cash the vulnerable down then they will be shut down and forever be kept down. Lockdowns to be put down. Let's #EndLockdownsNow.
Simon Ssenyonga, the writer is a lawyer.